Our software
With the system premium-zulasser.online we have taken a stand-alone position in the market. The special feature:
With the system, not only can registration processes be handled fully electronically, but all work steps can also be tracked in detail with just a few clicks and data for new business activities can be retrieved digitally.
premium-zulasser.online is networked via appropriate interfaces with proven IT tools from retailers and registration authorities such as GeNesys, easy-car-sales or x-Kfz.
We have invested more than one million euros in the basic and further development of our software, which is used by more than 3,500 car dealers in addition to our cooperative members. And the trend is rising.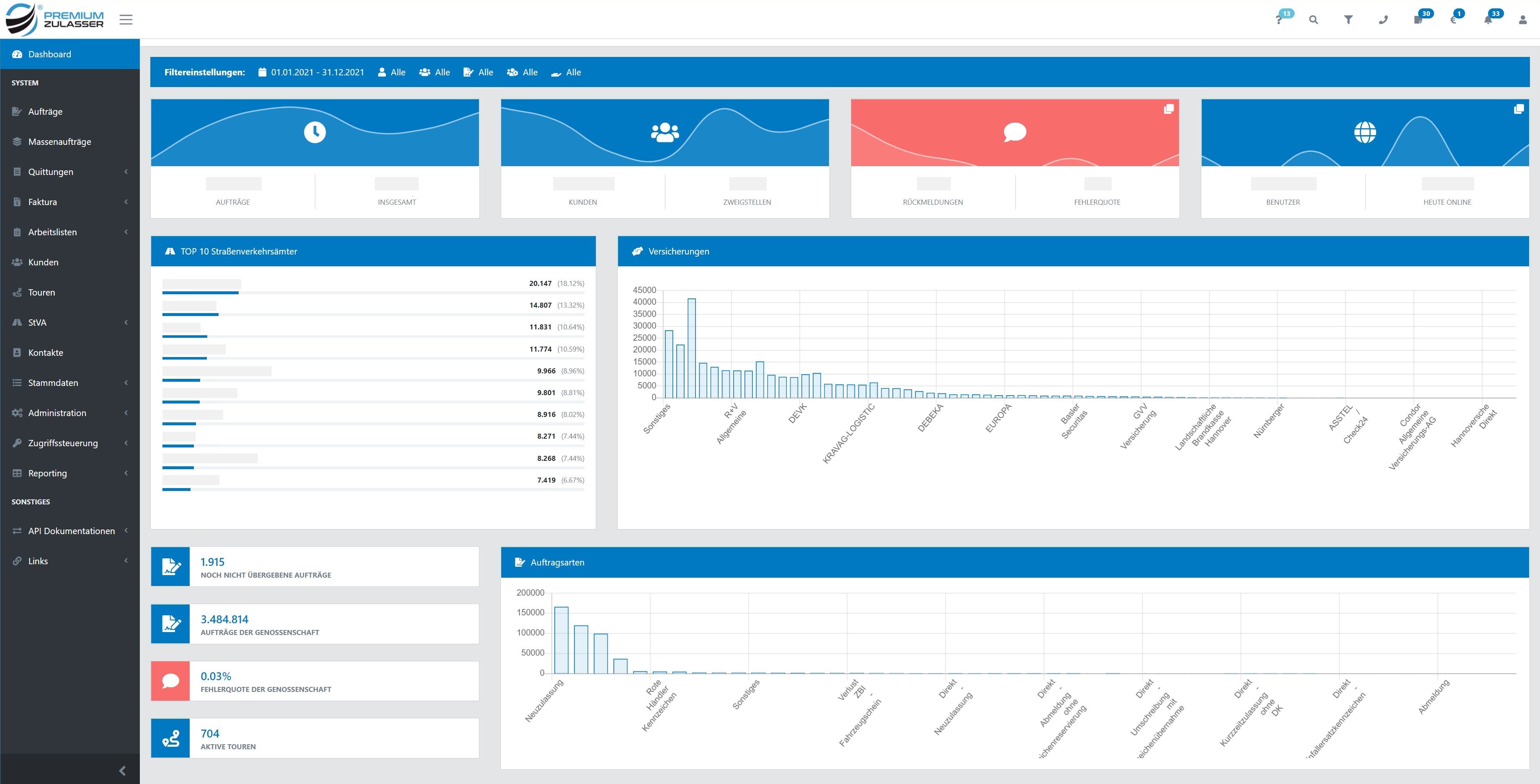 Networking
Islands were yesterday. The networking of proven inventory management systems such as GeNesys, easy-car-sales or x-Kfz with our registration software premium-zulasser.online is a central strategic approach for the further digitization of registration processes both in stationary and virtual trade as well as in the vehicle registration offices by municipalities and counties.
Isolated solutions, i.e. the manual transfer of data on the computer from one system to another, cost a lot of time and carry the risk of errors when processing at least 20 items per procedure. By linking different systems in a sensible way, we achieve holistic solutions that measurably relieve the burden on trade and authorities. It goes without saying that we comply with the requirements of the General Data Protection Regulation.
Features
Our premium-zulasser.online program combines the needs of everyone who manages the vehicle registration process in a simple and user-friendly manner.
These include:
car dealerships
online providers
fleet operators
embossing companies
public authorities
parcel service providers
members
In detail our program offers:
Powers of attorney and sepa mandates for all German registration authorities
Completion help, plausibility check
IBAN, zip code and EVB checker
Individual request list per registration authority
Banner for closing days and special features per registration office
Tracking system for transport partners
Automatic data transfer when changing forms
Interfaces to the registration authorities in iKfz format
Interfaces to DATEV or individual ERP systems
Order interface (parcel service provider, licence plate manufacturer)
Connection to all nationwide registration partners
Do you want to optimize your business processes or offer your customers new services?
With premium-zulasser.online important data for the further development of your business can be generated. This is how you secure the future of your company.
The link with x-Kfz plays a special role in our networking strategy. Because the interface of the Federal Motor Transport Authority is the gateway to i-kfz. From spring 2023, major customers such as manufacturers, importers, dealers, online providers or fleet operators with the appropriate software should also be able to register customer vehicles via the online portal of the Federal Ministry for Digital Affairs and Transport "as an innovator of German e-government". So far, the tool can only be used for deregistrations, transfers of ownership and registrations for private individuals.
But it is already becoming apparent that the connection to x-Kfz will be too complex and expensive for many dealers. The x-Kfz interface has around 1,100 lines in contrast to a conventional interface with around 30 to 40 lines. The programming and subsequent tests require several months of intensive work, which is the responsibility of each individual dealer. Only large car dealership chains, if at all, will be able to afford the necessary investments and the time required to connect to x-cars. In this respect, our established system with its easy handling and i-kfz will complement each other perfectly.